Scilla and the Business Plan for Peace team are pleased to announce that they are working closely with the Dutch Ministry of Defence to host a challenge as part of the 2020 Odyssey Hackathon taking place in April 2020 in Groningen, Netherlands. 
This will be a unique opportunity to engage with five tech teams to construct a DIGITAL ARCHITECTURE FOR PEACE with the aim to prevent human suffering and shift humanity's habit away from violent conflict towards the prevention of conflict.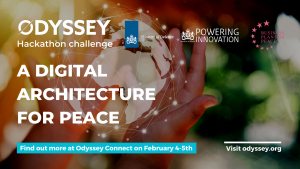 Want to get involved? Get in touch with our team to share how your skills and expertise could help us with our challenge. 
#Odyssey2020