Transforming Conflict
---
In this section of the website I would like to offer you examples of the bravest people in the world – women and men who risk their lives daily so that other people don't get killed.
These are the unarmed heroes of our age, and I am passionate for them to be recognized, to feel your admiration, and be supported in the astonishing work they do.
Videos
We can also add content below the video! Double yay!
Publications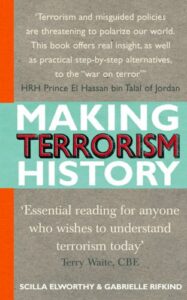 Making Terrorism History
Ever since 9/11 it's been clear we need a new approach to terrorism. In this timely and important book the authors show:
The root causes of terrorism. The links between trauma and fundamentalism. Why people become suicide bombers. Why peace processes collapse. Whether non-violence is a useful response. What can be done.
Peace Begins With Me
This little book was written by Dr Scilla Elworthy for young people as an introduction to self reflection and peace building.
To order please email contact@scillaelworthy.com.
Price: £5.00 + £2.50 P&P.